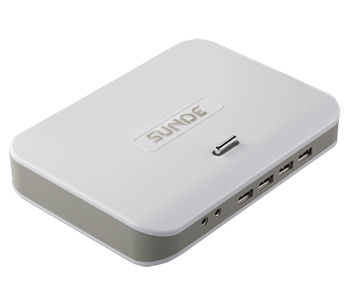 SUNDE VDI solution delivers the highest simplicity, cost-effectiveness and user experience for VDI deployments with its purpose-built VDI zero clients supported by the provided SUNDE vPoint software and the innovative SUNDE-VDI protocol.
The IT administrator at the server side creates multiple virtual computers and assigns them to terminal users through the running of vPoint software. By connecting Ethernet, monitor, keyboard, mouse and other optional audio and USB peripherals to a Diana zero client at the terminal, users can remotely run virtual computers that reside on a server.
SUNDE Diana is a VDI zero client which has no extra software, drivers, operating systems, CPU, power supply or memory but only contains the necessary hardware to initialize a conversation with the network, begin network protocol processes, and display server output. It centralizes all software, processing and management to just what is running on the server, leaving little more than a keyboard and monitor at the user's desk. It is a highly impacted, small and green devices that consumes less than 5 watts energy, generates the lowest heat & carbon footprint, and lasts as long as 7-10 years.
SUNDE VDI paired with Diana zero client delivers the full capabilities of a native desktop to users. Instead of having a remote connection session, users have their own virtual machine for personalization. It offers an uncompromised PC experience that supports most x86 based applications, rich multimedia including full frame rate HD video, dynamic flash and synchronized audio, and USB peripheral connectivity, fitting for task workers to knowledge workers, while still eliminating the issues or limitations in most multi-user environments.